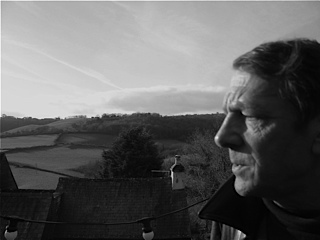 Paltenghi's paintings are in private collections in Europe, America and Australia, exhibiting successfully since the 1980's, and winning the Hunting / Observer Travel Award which took him to Australia (1992) returning with a large folio of work which was later exhibited at the Royal College of Art London.
He has travelled widely, painting in Zanzibar, Ireland, South of France, Crete, Portugal, Australia, Baja – Mexico.
As well as landscapes he is noted for this still life work – flowers, fruit – and more recently bottles and glasses.
Reduced images (paired down) – a simple but mediative style, underscored by poetic tension.
Awards
Hunting/Observer 1991, 1993, 1994 (Travel Award, Australia 1993)
Group Shows
Young Painters of Promise, Beaux Arts Gallery, Bath.
Painters of Fame and Promise, Beaux Arts Gallery, Bath.
Gent Art Fair, Beaux Arts Gallery. Cork street, London
Critics Choice, Clare Henry, Cooling Gallery, London.
Swiss Artists in Britain, October Gallery, London.
Contemporary British Art, Cricket Hill Associates, New York.
 The Royal College of Art, London.
Hunting Art Prizes (Travel Award-Australia).
Private Collections
New York, London, Frankfurt, Monaco, Melbourne, Canberra, Sydney.
Collections
Corporate Collections
Christie's, London
Private Collections
London, New York, Monaco, Frankfurst, Hamburg
The Earl of Plymouth Estate
The Late Lord Croft
Recent Exhibitions
June 2021
Lettres Vives, Tarascon, France
September 2020
Gallerie d'Art MAC Melanson, Tarascon, France
15 – 25 August 2019
Swiss Artists UK, The Peggy Jay Gallery, London
November 7 – 11 2018
Montreux Art Gallery,Suisse
9 May – 6 June 2015
David Simon Contemporary, 4 Bartlett Street, Bath, BA1 2QZ
2013
Recent Australian Landscapes, Chelsea Arts Club, London.
2012
Austrlian Landscapes, Beddington Fine Art, Bargemon Var Provence
2011/09
APART International Arts, Festival Provence.
Beddington Fine Art, Bargemon, Provence.
Landscapes, Zanzibar, Australia, Provence, Fulham London.
Highgate Contemporary Art.
2008
Art Expo New York.
2007
New Paintings, Fitzwilliam St Fine Art, Dublin.
2006/02
Salon Des Arts, The Chelsea Arts Club, The Groucho Club, London
2001
Boston Arts Fair, Cricket Hill Associates.
2000
Lanscapes from Pemba Zanzibar, Cassian De Vere Cole Fine Art London.
Zanibar Workshops, Stone Town.
Julian Paltenghi, c'est l'artiste le plus anglais de Tarascon ! Il était temps que ceux qui le croisent dans Tarascon où il est installé depuis de nombreuses années, mais ne le connaissent pas, découvrent enfin son travail, tout en couleurs et sobriété, délicatesse et poésie… Un amoureux de la lumière, des lignes, des aplats vibrants, des paysages architecturés ou des natures mortes épurées où l'oeil se repose et se perd comme dans un haïku visuel.
Frédérique Gachet, Tarascon, 26/4/18